Engineered Timber Floorboard Construction
---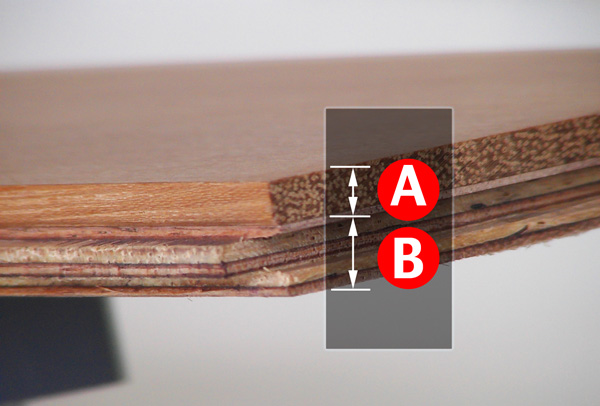 Engineered timber floorboard profile view
Layer A : 4 mm thick lamella walking surface of real hardwood timber.
Layer B : 6 mm thick marine grade plywood.
The top layer - A - of our engineered timber floorboards is real hardwood timber sourced from a range of different hardwood species including Sucupira, Tatajuba, Brazilian Pear, Brazilian Oak and Jatoba. Each timber species has a high Janka hardness rating, unique colours and grain characteristics that will complement, blend and cater for any premises, be it a home, office or retail store.
The engineered timber floorboards start with raw hardwood timber which is dried and cut into 4 mm thick slices called lamellas. The lamellas are then cut into lengths and meticulously selected to ensure each piece of timber is free of imperfections and thus providing a high-grade finish.
The hardwood timber is then sanded smooth, varnished with 7 coats, and bonded to a substrate layer - B - of marine grade plywood, which significantly strengthens the floorboard.
---
Width
Standard width: 90 mm.
---
Length
Packs contain varying lengths from 450 mm to 900 mm long.
---
Thickness
10 mm thick consisting of 4 mm hardwood timber walking surface bonded to 6 mm marine grade plywood veneer.
---
Due to continual product development the inclusions, features, colours and technical specifications of Advanced Shutter Industries products may change without notice.